You are currently on the:
CMHA National
Visit our provincial websites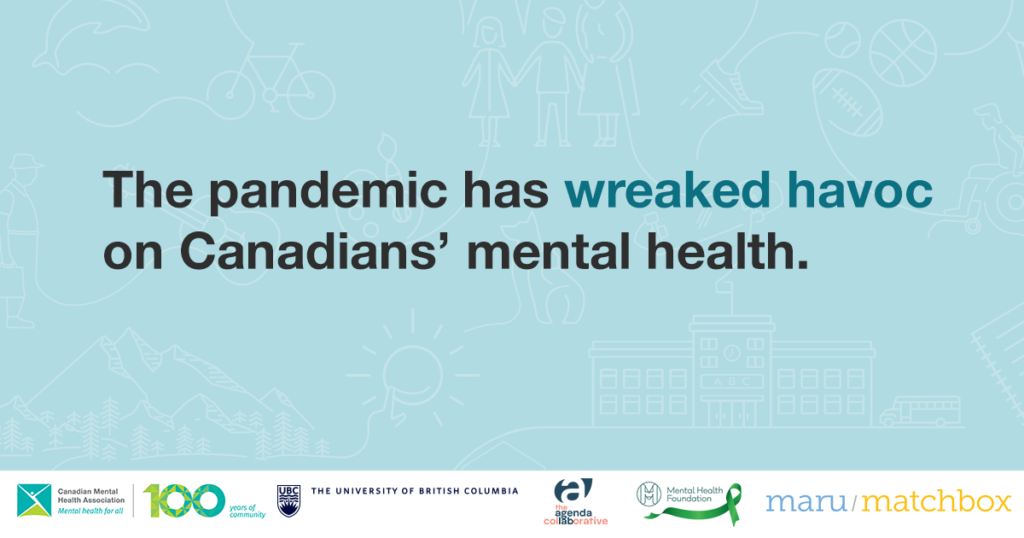 Half of Albertans Report Deteriorating Mental Health
Oct 21st, 2022
New research shows chronic stress taking toll on individuals and organizations
Edmonton (ALBERTA) – More than residents of any other province, Albertans say they are feeling stressed, angry, lonely, or depressed. 2 in 5 Albertans say financial concerns have been a source of stress in the past two weeks, and roughly 1 in 2 (45%) say being able to cope with uncertainty has been. Those numbers are the highest of any province across Canada.
Two years of pandemic-related stressors, including grief and trauma, are likely to lead to significant long-term mental health effects on both our population and the frontline mental health providers caring for them. Far from feeling the pandemic is over, 40% of Albertans are stressed about what's next, with 65% worried about new variants and 58% worried about COVID-19 circulating in the population for years to come. This according to Round 4 of the Assessing the Impacts of COVID-19 on Mental Health national monitoring survey by the Canadian Mental Health Association (CMHA) in partnership with UBC researchers, and CMHA's Running on empty: how community mental health organizations have fared on the frontlines of COVID-19, both released on Tuesday.
"The pandemic has revealed the limitations of our mental health systems and services available" states Giri Puligandla, Executive Director of the Canadian Mental Health Association – Edmonton Region. "People are struggling with their mental health more than ever, and to properly support them we need to transform systems and services, so they work for people and their families, and make for simpler journeys towards receiving help and recovering."
A 2020 report, Understanding the Current Landscape of Emerging Adult Mental Health Services and Needs in Calgary and Surrounding Areas, notes that "relative to other provinces, Alberta's emerging adults have one of the highest rates of first contact with the emergency department for a mental health-related reason." "We need to build capacity in community for people to support each other's mental health" added Puligandla.
"We're seeing big differences—or inequities—in how different groups of people are affected by the pandemic. This is dividing our society into haves and have-nots when it comes to mental health and illness," says lead researcher Emily Jenkins, a professor of nursing at UBC who studies mental health and substance use.
Roughly half of Albertans (46%) say their mental health has declined since the onset of the pandemic and this is particularly true in vulnerable groups such as those who are unemployed due to COVID-19 (57%), had a pre-existing mental health condition (54%), identify as LGBTQ2+ (49%), are students (47%), have a disability (44%) or are Indigenous (42%). 2 in 5 Albertans are worried about the compounding effects of climate change on top of COVID-19 and ten percent have had recent thoughts or feelings of suicide.
"Improving Canadians' mental health is about more than just increasing access to care," says Anne Gadermann, co-lead researcher and professor at the School of Population and Public Health, UBC. "We need to address the root causes of mental health inequities through promotion and prevention, in addition to treatment."
Giri Puligandla adds, "As we go through this uncertain time together, we know that our road ahead is not to go back to normal, but to create a better normal. The new normal will not only be inclusive but catered towards the community's needs that have previously been overlooked."
Getting help
If you or someone you love is struggling, please call the Distress Line at (780) 482-4357 for crisis support or 211 for information on resources available in the community.
About the survey
The survey was dispatched by Maru/Matchbox from Nov. 29 – Dec. 7, 2021, to a representative sample of 3,030 people ages 18 and up living in Canada. The fourth round of this national monitoring survey was made possible by generous support from Co-operators. To access a complete summary of the findings, please click here.
About the report
The report uses in-depth interviews across all provinces and the Yukon territory to outline how community mental health organizations have been impacted by and responded to the pandemic. The research was made possible by generous support from Co-operators. To access the complete report, please click here.
About CMHA Edmonton
CMHA Edmonton works within the community to support people experiencing mental illness and their families through advocacy, education, research, services, and programming. CMHA Edmonton works alongside community partners to service vulnerable and targeted populations who are living with or are at risk of developing mental health challenges. The organization provides education and training programs to various community actors and nurtures strong relationships within Edmonton through community-based services.
For further inquiries, please contact Alex Abboud at 780-414-6302 or via email at [email protected]