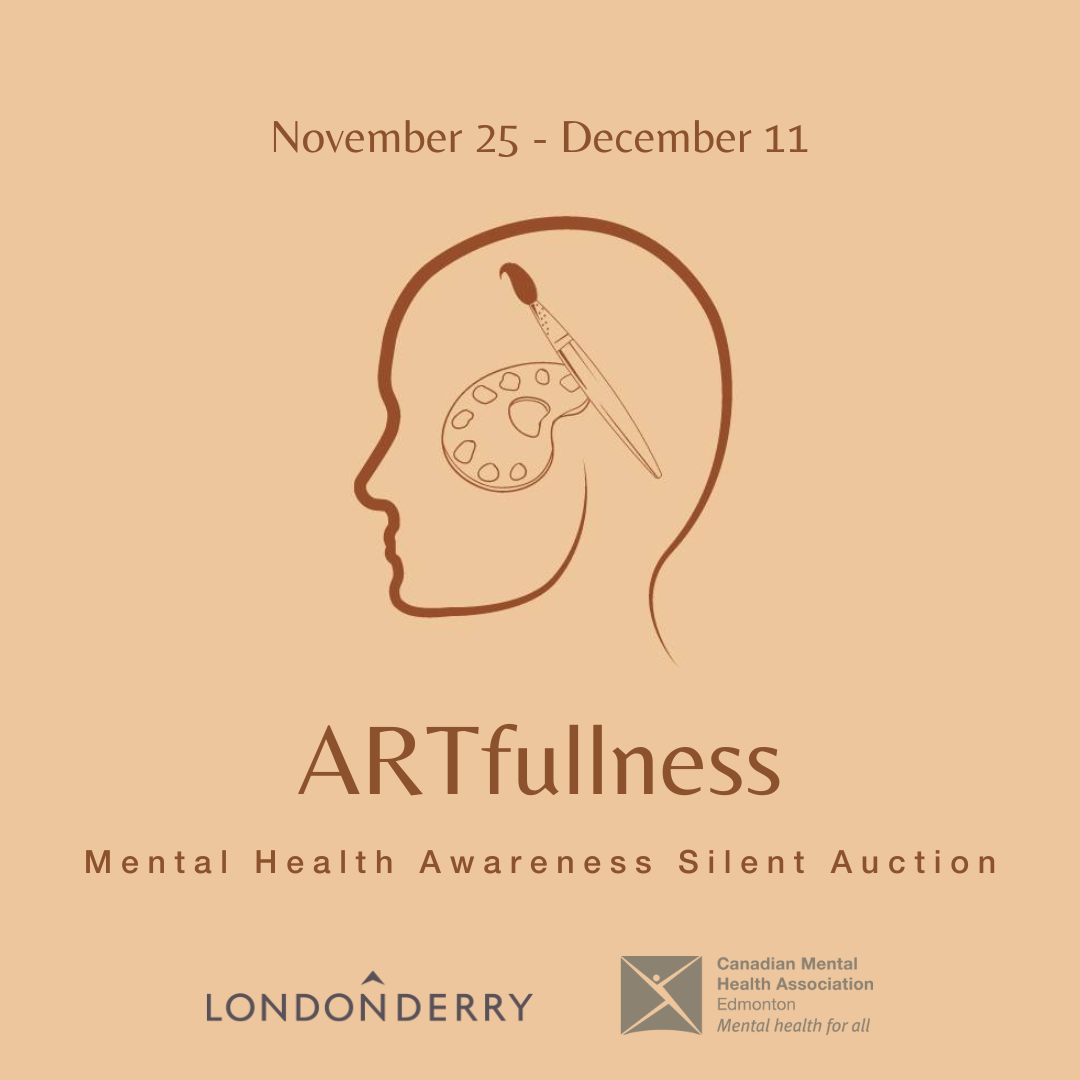 ARTfullness
CALL FOR ARTISTS 
As we move into the holiday season, we want to remind our community of the importance of mental health. We want to offer an opportunity to listen, educate and understand mental health and to give those who live with mental illnesses a chance to speak to their story or find inspiration in others.
In partnership with Canadian Mental Health Association, we are looking for local artists to create pieces to be on display for our ARTfullness silent auction. We are open to an array of different mediums and sizes as long as they are 2-dimensional, please contact us for more info.
ARTfullness is a Silent Auction that will be held from November 26 to December 11 at Londonderry, featuring local artists depiction of mental health through the form of art during their journey through COVID-19. For those living with mental illnesses, art can be an outlet to find peace and clarity. We are honoured to be able to showcase such talent and allow the raw beauty of these pieces to be on display within our walls.
How To Submit: 
1. Email [email protected] with an image of your 2-dimensional artwork* (please note we are limiting submissions to 2 per person)
2. We will be in touch with a registration form to be filled out giving us more information about your piece
Timeline:
Submission deadline: November 24th, 2022
Decisions: within 24h of submission until November 24th, 2022
Work delivered to Londonderry Mall: By November 25th, 2022
ARTFullness Auction event: November 25th to December 11th, 2022
Artist Compensation:
We sincerely value the work of those who support this event by donating artwork and experiences.
Artists will receive a payment of 50% of the selling price of the work at the auction. The other 50% will be donated to support programs and services of the Canadian Mental Health Association Edmonton.
Getting work to the Londonderry Mall:
After you receipt a confirmation that your artwork is accepted, you will get instructions on how to deliver your art to the Londonderry Mall. Upon receipt of the art, the ArtFullness event reserves the right to disqualify artwork that was not well described in the submission form or not properly prepared for display.
*Due to the fact that this will be on display to the public, it must be a family friendly piece of art. Londonderry prides itself on being inclusive and we want to ensure that any children walking through the mall are able to view the pieces as well.
About Canadian Mental Health Association – Edmonton Region
CMHA Edmonton works within the community to support people experiencing mental illness and their families through advocacy, education, research, service, and programming. CMHA Edmonton works alongside community partners to service vulnerable and targeted populations who are living with or are at risk of developing mental-health challenges. The organization provides education and training programs to various community actors and nurtures strong relationships within Edmonton through community-based services.
Contact:
Questions or concerns, please feel free to contact us, and we'll be happy to help!
Vanessa Treleaven
Assistant Property Manager | Marketing Manager
[email protected]