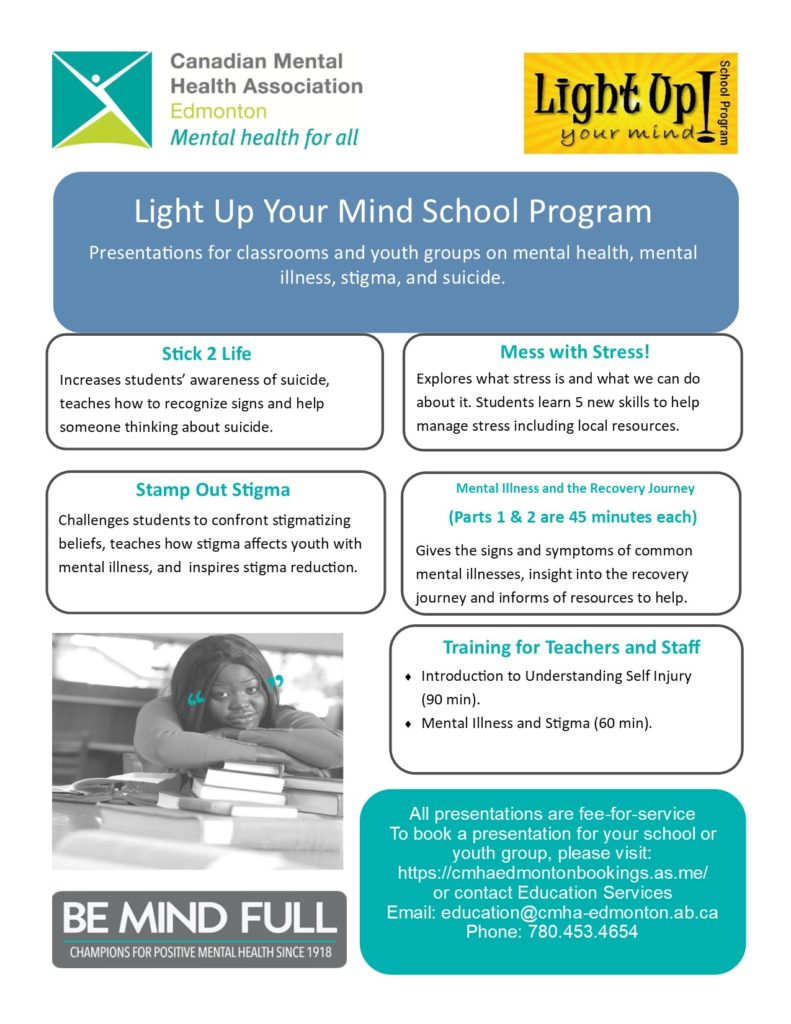 Presentations for classrooms and youth groups on stress, mental illness and recovery, stigma, and suicide for youth ages 12 and up (grade 7-12).
Time: 45 minutes each
CMHA has rolled out a new scheduling system called Acuity Scheduling.  This system will let you book Light Up Your Mind presentations and Adult Community Education workplace presentations independently online.  In addition to this great capability, you are able to create an account and enter your details just once giving you the ability to bypass the need to enter your details if you will be scheduling multiple presentations. Plus, when you book a presentation you will get a confirmation email which will include links enabling you to cancel, reschedule, or add appointments to your calendar. Finally, you will also receive a reminder email with all your details a week before your scheduled presentation.
The best feature about this system is accessibility as it allows you to book presentations online between 8:30am and 4:00pm Monday to Friday. This means that instead of calling or emailing for availability, you will now be able to schedule by choosing a date and time of your liking as the system is set to bring up only available time slots. In addition, it retains appointments at three month intervals e.g. April, May & June with July opening on the 1st of every month or working day should the 1st fall on a weekend or long weekend.
We are aware that all new systems come with challenges so to best assist you with any problems that you may encounter, we have attached a step by step manual for your reference which can be accessed by clicking here.
Student Presentation Topics
Stick 2 Life
Increases students' awareness of suicide, teaches how to recognize signs of suicidal thinking in others, and shares strategies for seeking help.
Mess with Stress!
Explores what stress is and what we can do about it. Students learn 5 new skills to help manage stress including local resources.
Mental Illness and the Recovery Journey (Parts 1 and 2)
Gives the signs and symptoms of common mental illnesses, insight into the recovery journey and informs of resources to help.
Stamp Out Stigma
Challenges students to confront stigmatizing beliefs, teaches how stigma affects youth with mental illness, and inspires stigma reduction.
Teacher Training
Introduction to Understanding Self-Injury (90 min)
An introduction to understanding self-injury in your students and what you as a school and as an individual can do to help.
Mental Illness and Stigma (60 min)
An introduction to the stigma associated with mental health and mental illness. Join the discussion and come up with ways to combat stigma in your school.
If you are interested in booking a presentation, please visit the following link: https://CMHAEdmontonBookings.as.me
For questions or to learn more, contact 780-453-4654 or email education@cmha-edmonton.ab.ca