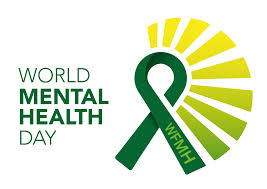 October 10 is World Mental Health Day (https://www.who.int/campaigns/world-mental-health-day). It's observed every year with the objective of raising awareness and mobilizing support for mental health.
Self-care is an important part of mental health and well-being. For World Mental Health Day, we asked our staff to share some of their self-care tips. We hope you find these helpful for improving your own routine.
One of my core practices is to end each day with a warm bath. I hear a lot of people say they like bubble baths for self-care, but I really find that ending each day in this way is a good way for me to relax and unwind from my day. Sometimes, to literally wash the day away. It's a good time to let my mind wander and I often have some of my greatest insights when having a good soak.
 Another thing I do each day is take my dog for a walk. While the walk is for the dog's benefit, I also benefit immensely from it. It's a good way to work off any residual energy I am carrying from my day, it's nice to run into my neighbors and enjoy brief but friendly interactions, and of course fresh air is good for everyone! If I come home feeling frustrated or upset for any reason, by the time the dog and I have taken our walk, I have calmed down and feel relaxed.
 –Jenny
Feeling what I'm feeling when I'm feeling it helps me move through difficult emotions and find my way back to equilibrium more rapidly. 
 –Sue
Reading takes me to other worlds, into other lives, and some shared experiences.  I find time, even if it is only a few minutes, to read at the end of each day. 
 –Ione
For me, reading is critical for my emotional well-being. If I need to process some thoughts, I might read something heavy and on topic, or if I need to escape, I can read a lighter fiction. Reading is so diverse, no matter what mental health state I am in there is always a book to help me through it!
 –Cassandra
"Reading has always been a joy and a retreat for me. Whether it's a new book or an old favourite, reading relaxes and recharges me."
 –Theresa
"I find my physical and mental health are closely related, so I try to get some activity every day, whether it's a run, or a long walk, or yoga first thing in the morning."
–Alex
"Speaking to myself as kindly and compassionately as I speak to others is an important practice in my wellness journey." 
 –Margot
"I find doing at least 10 minutes of mindfulness a day (often several times a day) to be extremely beneficial to managing stress. In addition, when I need a quick break, I plant my feet flat on the ground, close my eyes and take several deep breaths, in through the nose and out through the mouth and imagine roots growing from my feet into the ground, planting me firmly in place."
 –Julie
"Adequate relaxation throughout the day, particularly in the evening prior to bedtime; and a good nights sleep is my key to good Mental Health."
 –Dixie
"During the pandemic, I developed the habit of making my bed every morning and sweeping the floor in my room. It's simple, but it helps set the tone for the day and adds an accomplishment to the list of things to do before the day begins."
 –Donna
For more tips, follow us on social media for regular #SelfCareSunday suggestions.