You are currently on the:
CMHA National
Visit our provincial websites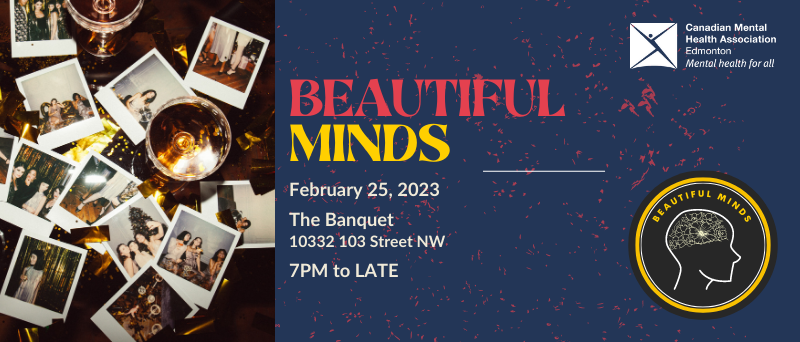 Beautiful Minds – An Evening of Connection and Raising Funds for Mental Health
Feb 13th, 2023
EDMONTON, AB – February 13th, 2023
The Canadian Mental Health Association – Edmonton Region is excited to be introducing its upcoming NEW signature event, Beautiful Minds! With the support of our media sponsor, Global Edmonton, this evening will be filled with connection and is taking place on February 25th, 2023 at The Banquet in the Ice District. The event will include the use of The Banquet's many amenities where attendees will have a chance to bowl, play ping pong, try their hand at shuffleboard, and challenge friends to many arcade games. This event will have all your favorite '90's to early 2000's tunes to get you dancing and bring back the nostalgic feeling of being young and carefree. As well, Beautiful Minds will have an array of unlimited and exclusive upscale appetizers and food stations along with signature cocktail and mocktail options!

Tickets are selling quickly with 50 percent already sold out! Funds raised from this event support CMHA-ER programs like youth suicide grief support groups, 24-hour helplines like the Distress Line, which all operate free of charge for the Edmonton community. Find out more about how you can support Beautiful Minds and how you can get tickets by visiting beautifulmindsyeg.ca.
"Over the past few years, people have been isolated and having to consistently adjust to new guidelines and regulations…" states Giri Puligandla, Executive Director of CMHA-ER. "Beautiful Minds is an opportunity to bring people together and connect for the sake of their mental health while supporting resources for the community." Puligandla continues, "Mental health is at the forefront of most people's minds and it's important to acknowledge that everyone has mental health; not just those in crisis or dealing with a mental illness. Accessing our programs is focusing on mental health for ALL."

Bringing awareness to the local mental health resources, programs, and services, the CMHA Edmonton helps equip Edmontonians to make the right call when in distress. All funds raised through Beautiful Minds will support CMHA-ER programs such as the 24-hour Distress Line, suicide grief support groups, affordable housing for people living with mental illness, and many more mental health programs in our community.
Join us on February 25th for:
Dancing
Plenty of games
A Short program
Signature cocktails & mocktails
Exclusive upscale appetizers including a poutine bar, sushi and more!
Be a part of Beautiful Minds' inaugural year and buy your tickets today!

About Canadian Mental Health Association – Edmonton Region
CMHA Edmonton works within the community to support people experiencing mental illness and their families through advocacy, education, research, services, and programming. CMHA Edmonton works alongside community partners to service vulnerable and targeted populations who are living with or are at risk of developing mental health challenges. The organization provides education and training programs to various community actors and nurtures strong relationships within Edmonton through community-based services.

Contact
For further inquiries, please contact Catie Whyte via email at [email protected].