Location Map:
March 27, 2019
1:00 pm to 4:00 pm
Canadian Mental Health Association
10010-105 Street NW
Edmonton, Alberta
T5J 1C4
Canada
Add to Calendar (iCal) Add to Google Calendar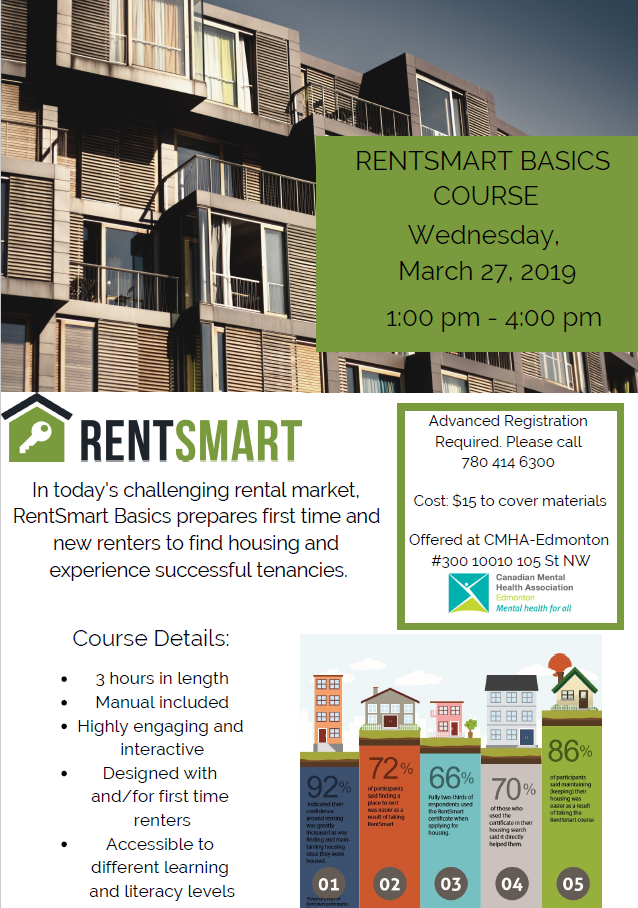 Preregistration is required: space will not be reserved without payment. To register, please download and complete  Workshop Registration Form (PDF). You can drop off the completed form or mail it to 300-10010 105 Street NW, Edmonton, AB  T5J 1C4; email it to main@cmha-edmonton.ab.ca; or fax to 780.482.7498.
RentSmart opens doors to housing through education. Our theory of change is that education is a transformative and key component in developing the tools and knowledge to be good tenants, good landlords and increase housing stability
Tenants want a safe, suitable, affordable home to rent; landlords want tenants to pay rent on time and take care of their property. Being a good tenant or a good landlord is not an innate skill. RentSmart provides education, and support to tenants, landlords, and community champions with one goal: successful tenancies.
RentSmart helps people find and keep good housing through a combined model that provides:
comprehensive housing and life skills education
a certificate that can be recognized as a reference on housing applications (for the RentSmart Certificates)
coaching support to address housing issues as they arise.
Successful tenancies are a key to building strong communities, increasing housing stability and preventing homelessness.
CMHA-Edmonton currently offers two RentSmart courses. Both courses are highly interactive for participants and cover topics such as: applying for housing, rights/responsibilities/expectations of tenants and landlords, finances/budgeting, effective communication, and taking care of your home. Both courses are provided for a small fee to cover the cost of materials.
RentSmart Basics
A 3-hour session which covers key skills and knowledge to assist participants to learn important tools to maintain healthy housing and is accompanied by the RentSmart Basics manual. Following participation in the course, attendees are provided with a letter of completion.
RentSmart Certificate
The RentSmart Certificate course goes through 6 modules over 12 hours of classroom learning. The benefits of the certificate course are empowered tenants who understand their rights and responsibilities, communicate effectively with landlords, neighbours, and roommates, and budget to maintain their housing and look after their home effectively. For participants that attend all sessions a certificate is issued which clients can use to provide to current and prospective landlords.