Location Map:
November 15, 2019
7:00 pm to 8:30 pm
Lister Centre, Maple Leaf Room, University of Alberta
11613 87 Ave NW
Edmonton,
T6G 2X2
Canada
Add to Calendar (iCal) Add to Google Calendar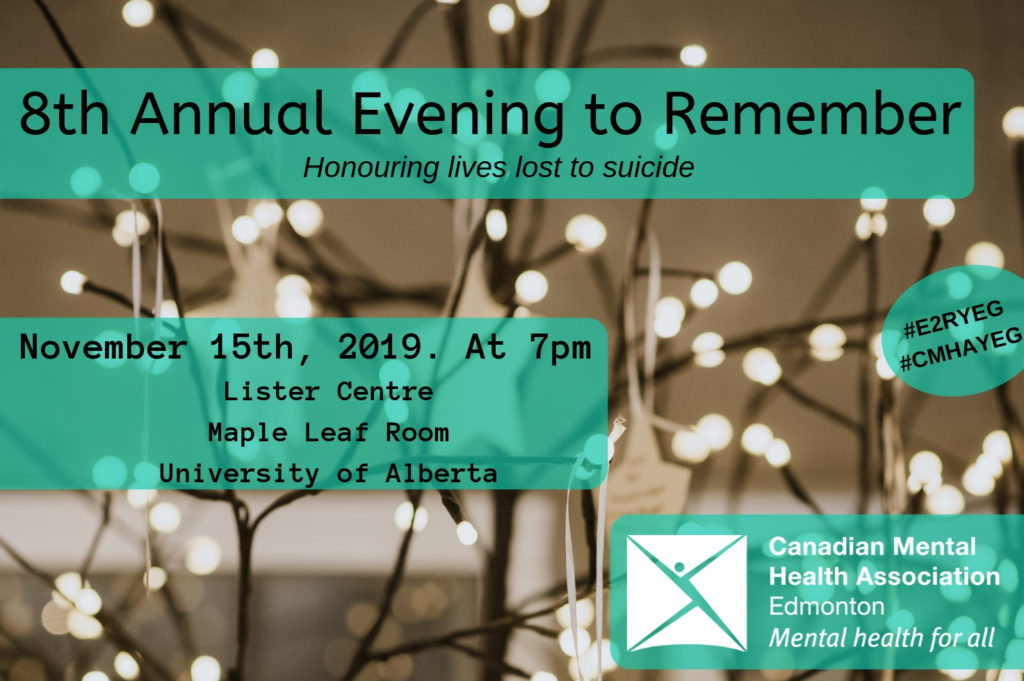 An Evening to Remember is an annual gathering to honour and remember our loved ones who have died by suicide. Together we will celebrate the memories of those dear to us in a safe and supportive environment sharing smiles and tears, laughter and sorrow. The doors will open at 6:30pm and the program will begin at 7:00pm.
Free parking will be available in lots M, R and the Jubilee. These are all accessible from the entrance of Lister Centre at 11605 87 Ave NW, Edmonton, AB T6G 0Y2. Lot M is directly in front of Lister Centre, Lot R is adjacent to Lister and Jubilee West is just beyond Lot R. Traffic control personnel (neon vests) will be in front of Lister Centre and will direct you if you are unfamiliar with the area parking or have questions. For those taking public transit, Lister Centre is only a five minute walk from the Health Sciences LRT Station.
Registration for this free event is required as the space is limited.
For more information, please contact: Peris Wasonga at pwasonga@cmha-edmonton.ab.ca
#E2RYEG #yegCMHA #MentalHealth #yegMentalHealth #MakeMentalHealthMatter #YEG
Registration is required as the space is limited.
To register visit: https://www.eventbrite.ca/e/8th-annual-evening-to-remember-tickets-59406605757