September 10, 2017 to September 16, 2017
12:00 am
Add to Calendar (iCal)
Add to Google Calendar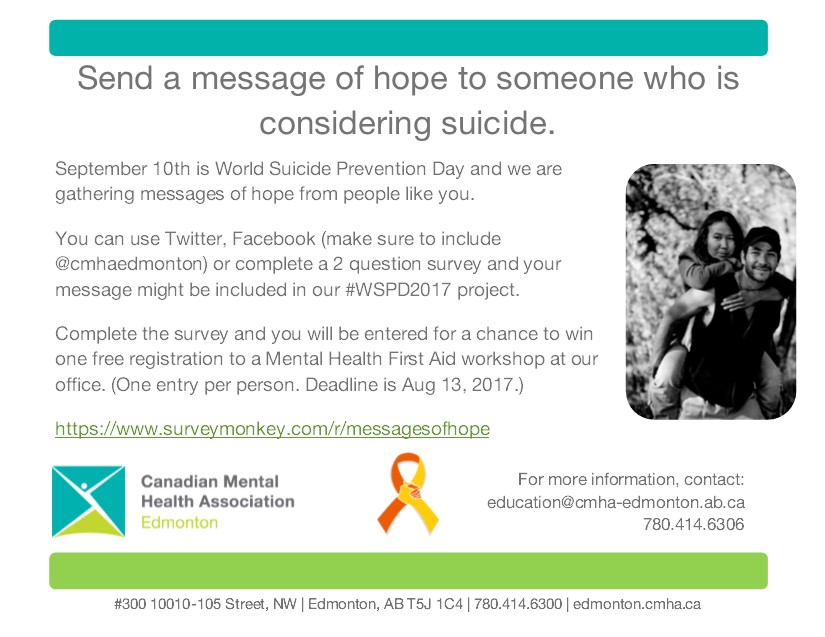 World Suicide Prevention Day is September 10th, 2017 and Lift the Silence: Suicide Awareness Week comes to Edmonton September 10 – 16.
The Canadian Mental Health Association – Edmonton Region has a very special project in development in which we hope you will take part.
We are gathering #messagesofhope that can be shared with people who may be considering suicide or are otherwise struggling emotionally.
You can share a message speaking from personal experience with a suicide attempt or suicidal thoughts (#ImgladImstillhere).
You can share as someone who has lost someone to suicide.
You may wish to speak as a caregiver, supporter, friend or neighbour of someone who is struggling.
You may wish to speak as someone who is considering suicide and share what has given you hope.
Share #messagesofhope with us on Facebook, Twitter (make sure to include @cmhaedmonton) or share anonymously through a 2 question survey at https://www.surveymonkey.com/r/messagesofhope.
If you complete our survey, you will be entered to win one #free registration for a Mental Health First Aid workshop at our Edmonton office (one entry per person). Our deadline for the contest is August 13th, 2017, but you can share #messagesofhope all summer long.
Give hope to someone who is considering suicide by sharing #messagesofhope.
If you are in distress, you can call the Distress Line 24/7 at 780.482.4357
If you are interested in programs and services in the Edmonton area, please dial 211 or visit 211.ab.ca.